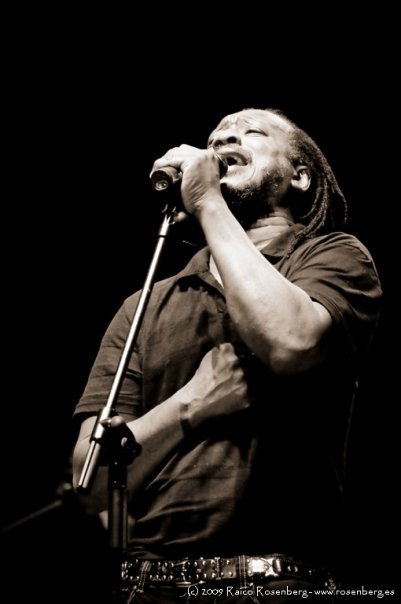 Brinsley Forde best known as the founding member of the British super Reggae group Aswad. is now a solo artist about to release  a long awaited solo debut album.
Brinsley is said to be the first black child star on British TV, playing the role of Spring in the Twentieth Century Fox series, Here Come the Double Deckers. His TV credits also include roles in LWT's Please Sir (Herman) and HTV's The Georgian House (Ngo).
Brinsley also has several film credits to his name including Nick Love's Goodbye Charlie Brite (Floyd), John Boorman's Leo The Lost (Bip), James Bond film Diamonds are Forever and most notably in Director Franco Rosso's highly regarded 80's cult British film, Babylon in which Brinsley plays lead character Blue. ("Aswad's Forde is excellent as Blue" – Time Out)
Aswad was formed in West London in 1974 with Brinsley fronting the original five piece on both vocals and rhythm guitar, Angus Gaye (Drums/Vocals), George Oban(Bass) Courtney Hemmings(Keyboards) Donald Griffiths(Lead Guitar).
And joining them on harmonies Bunny & Candy McKenzie  and stage debut of Janet Kay.
The group quickly became recognized among reggae fans for their rich melodies and compelling harmonies, woven over hard rhythm tracks and later inspired horn riffs. Aswad first gained national attention in 1976 when their debut single release Back To Africa hit #1 in the UK Reggae Charts'
Aswad earned international acclaim with their reggae version of Don't Turn Around, a song previously covered by both Luther Ingram and Tina Turner. Don't Turn Around, released on Island in 1988, went to #1 on the UK National charts and was the most-played record on French radio.
In 1994 the band were nominated for a second Grammy for Best Reggae Album of the Year for Rise & Shine which spent four weeks at the #1 slot on the CMJ New World chart and got a Top 10 slot on the Billboard reggae chart. The album was also a major hit in the UK and Japan, where it produced a #1 single Shine, boosting worldwide sales to more than 600 000.
Love Fire, Aswad's popular anthem released in 1981 and Warrior Charge has become part of the reggae canon and both are still covered today by many Jamaican record producers. The group's 1983 Island release Live and Direct is considered one of the quintessential live reggae albums.
Over the years Aswad have joined forces with a variety of artists including Dennis Brown, Maxi Priest, Jackson Browne, Yazz, Hugh Masakela, Steely & Cleevie, Shabba Ranks and Sly & Robbie's Taxi Gang.
They are the only British group to have recorded and/or performed in concert with top Jamaican artists Burning Spear, Bob Marley, Peter Tosh , Bunny Wailer, Dawn Penn etc
Aswad has toured extensively, playing to packed houses ranging from London's Royal Albert Hall, Montego Bay's Reggae Sunsplash to venues in Africa, Israel and Japan.  They have also headlined numerous international events Rock in Rio festival and Nelson Mandela's 70th Birthday concert celebration including help a London child attended by Princess Diana.
In 2000 Aswad received the prestigious Outstanding Contribution to Black Music at the fifth Mobo Awards.
Brinsley's screen presence has also enabled him to carve a niche for himself as a music presenter.  As VJ /VH-1's Soul Vibrations he play-listed and scripted his own shows, introducing many R&B Hip Hop and early Reggae videos to TV for the first time.
Brinsley  presented the BBC television magazine show Ebony, followed by a second series Ebony on the Road where Brinsley & co presenters went reporting on location.
Along with David Grant hosted Soul on Soul  an early introduction to digital TV
In 2002 Brinsley was one of the broadcasters to launch the first of the BBC Digital Radio Stations, 6 Music, the first national music radio station to be launched by the BBC in 32 years.
Again Brinsley play listed his own shows Lively Up Yourself and later his pioneering show, Dub Plate Bashment.
Presenting opportunities continued with the acclaimed BBC Radio 2 Documentary Behind the Smile, the Real Life of Bob Marley, a man Brinsley personally knew. (Brinsley features in the music videos Buffalo Solider & One Love and has also since fronted the Wailers on their Spanish tour)
Brinsley was asked to presented the eight part documentary series Island Rock to mark the 40th anniversary of Jamaica's Independence. interview many of the island musical legends including Clement Coxsone Dodd (Studio One)
Brinsley now embarks on the first stages of his long awaited  solo career with the lanch of aptly titled single Can't Stop Me Now taken from his forthcoming album Urban Jungle.